TREATMENT APPROACH
Adlerian Psychology / PsychotherapyAdlerian therapy is a short-term, goal-oriented, and positive psychodynamic therapy. It focuses on the development of individual personality while asserting that humans are interconnected. During therapy, practitioners pay particular attention to beliefs and behaviors that were developed by the client in childhood. Clients' behavior is explored in the context of their sense of 'fitting in' in their community and society. The goal of therapy is to acquire a more positive and productive way of life by developing new insights, skills, and behaviors. This is achieved through 4 stages of Adlerian Psychotherapy:
1. Engagement: The client and therapist begin to establish the therapeutic relationship. The relationship consists of collaboration towards addressing the client's problems.
2. Assessment: Gathering information about the client's life and presenting concerns. In this part of therapy, the therapist attempts to understand how the client may have developed certain styles of thinking that are no longer helpful or adaptive for them.
3. Insight: The therapist helps the client gain insight into their behavior and motivations and helps to develop new ways of thinking about his or her situation.
4. Reorientation: Encouraging the client to use their newfound insight and goals to to develop new strategies that the client can use in daily life.
Body-Mind PsychotherapyBody-mind psychotherapy is an integrative approach to psychological treatment that draws from both psychotherapeutic and somatic/body-based approaches. It emphasizes the interconnection between physical, emotional, cognitive and spiritual aspects of being. This approach seeks to help individuals explore how physical sensations, emotions, thoughts and beliefs influence their behavior and well-being. Through this exploration, individuals can gain insight into how the body and mind interact to create patterns of behavior, and how those patterns can be changed to promote healing and wellness.
Cognitive Behavioral Therapy (CBT)Cognitive Behavioral Therapy (CBT) is a type of psychotherapy that focuses on how one's thoughts, feelings and behaviors are connected and can be changed. It is based on the idea that how we think (cognition) and how we feel (emotion) can influence how we behave. CBT helps people identify and challenge distorted thinking and replace it with more balanced thinking, leading to improved mood and behavior. 'Homework', usually containing practical writing exercises, is often completed by the client between sessions to reinforce the therapy. Examples of tools that practitioners often use are journaling, challenging beliefs, and mindfulness.
Emotional Freedom TechniqueEmotional Freedom Technique (EFT) is an alternative therapy for emotional and physical distress. It is based on the idea that the cause of all negative emotions is a disruption in the body's energy system. EFT is a form of psychological acupressure, in which a combination of physical tapping and verbal affirmations are used to help the body release the emotional and physical distress.
Mindfulness-Based Cognitive Therapy (MBCT)Mindfulness-Based Cognitive Therapy (MBCT) is a form of therapy that combines cognitive behavioral therapy with mindfulness practices. It is based on the idea that our thoughts, emotions, and physical sensations can affect our mental health. MBCT helps individuals become aware of their thoughts, emotions, and physical sensations in order to gain insight and control over them. MBCT helps clients learn how to recognize their sense of being and see themselves as separate from their thoughts and moods. This separation can free the client from thought patterns in which the repeated negative messages may be dominating the client's focus. After developing an awareness of the separation between thoughts, emotions, and the self, people in treatment may find that while the self and the emotions may exist simultaneously, they do not have to exist within the same dimension. The healing can take place when one learns how to interject positive thoughts into negative moods and thereby create a shift in mood.
Psychodynamic TherapyPsychodynamic therapy is a form of therapy that focuses on the unconscious mind and how it affects behavior. It works to help people understand and work through past experiences and feelings that may be causing difficulties in the present. This type of therapy encourages individuals to explore their emotions, relationships, and behaviors in order to gain insight into their current difficulties. It can help individuals better understand themselves and their motivations, and gain insight into how past events have impacted their current lives. People tend to develop defense mechanisms when faced with challenges in life. Defense mechanisms may keep painful feelings, memories, and experiences in the unconscious. A few common defense mechanisms include: denial, repression, and rationalization. Psychodynamic therapists encourage people to speak freely about their emotions, desires, and fears. Being open may help uncover vulnerable feelings that have been pushed out of conscious awareness. According to psychodynamic theory, behavior is influenced by unconscious thought. Once painful feelings are brought forth and processed, the defense mechanisms are no longer needed and a person in treatment can start changing unhelpful patterns when coping with life's challenges.
PROUD PARTICIPANT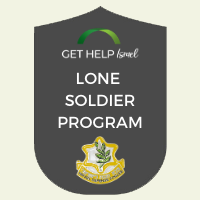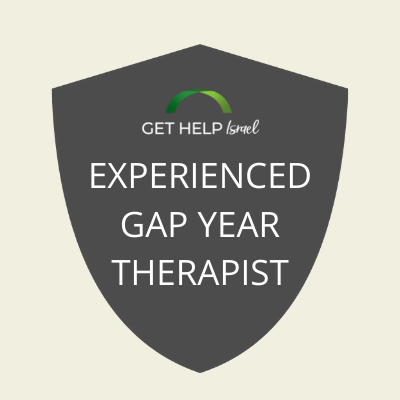 Therapist's Experience with Gap Year Students
I have worked with gap year students in my private practice, and as a social worker for immigration & absorption, and I am familiar with the challenges that can be forthcoming; living away from home and family support and at the same time adjusting to a different language and culture.