Caregiving in the Time of Quarantine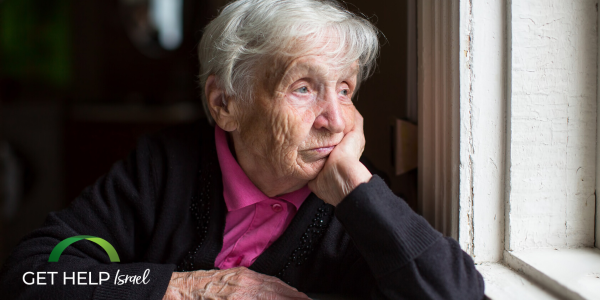 "Sharon," a 50 year old client of mine from the US, called me last night in a panic. Her mother, age 94, was transferred to the hospital from the assisted living facility where she has been residing for 3 years. The doctor told Sharon that her mother suffered a heart attack, has pneumonia in both lungs, and was tested positive for Covid-19. As a devoted adult child who rearranged her life to take care of her mother, Sharon is devastated. Now her only contact with her mother is through an overworked nursing staff on her unit.
"Michael," a friend who made aliyah several years ago, shared that his two elderly parents in the US are becoming increasingly agitated as they are coping with isolation, frailty, fear of being infected with the virus and depression. More than anything, interruption to their regular routine has been disorienting and frustrating for them. Michael had always been their dependable caregiver when he lived nearby; now, he doesn't know how to help them given their distance and increasing limitations. Under normal circumstances, he could take a flight to the US and help his parents. Now that's off the table. Technology has helped ease the situation, though it is not as seamless an option as it was just weeks ago. For two ninety year-olds, living in a remote world is simply not in their frame of reference.
How can we as caregivers of elderly relatives, whether they are local or across the world, navigate the realities of this pandemic? How do we adjust to this "new normal" in our lives with responsibilities as adult children to our elderly loved ones? How can we cope with the inevitable guilt that arises from not being able to fully meet our family's needs during this time of crisis?
Here are some tools to help:
We must reframe our reality

: Admit that this is not what you or they planned, and that there was no way to anticipate this situation and prepare for it.

Manage your expectations

by identifying those things that you still

can

do. For example: arrange for a caregiver where indicated and possible, order food and medicine delivery, help them pay their bills on-line, be in touch with their doctors where indicated, and schedule daily video calls to decrease their isolation and uplift their and your moods.

Acknowledge your feelings

of guilt and helplessness and then work towards moving past them. Accept and recognize that you are most likely doing what is humanly possible for them and you are not so helpless.

Step up your game!

Seek out more or different resources at your disposal in their specific community and/or call the local agency that works with seniors. There may be governmental and community resources that you never had to consider before, but now is the time.

Check in with your emotions

at this time. Be aware that feelings of anxiety and depression which are not openly expressed can intensify. Your feelings of vulnerability are normal and expected; seek out a healthy outlet for these feelings.

Share with others

in your situation. Everyone's challenge is unique but there are multiple people in your social environment who are facing similar challenges. Network with them and learn from them how they have helped their family members while in quarantine.

Self-care is critical

. Set up and stick to a routine by making daily goals for yourself and trying to achieve them. This will lead to feelings of accomplishment and productivity. Expect that your moods will fluctuate, as you may be feeling flooded with anxiety from being overstimulated with excessive or negative information. Seek out pleasurable activities like signing up for a course on-line and daily physical exercise.

Seek out professional therapeutic help

via videochat for yourself to lower your stress and brainstorm creative ideas for coping more effectively. Consider joining a virtual group therapy session for caregivers to gain tools for yourself while connecting to others in a similar situation.
The world is in a crisis and although others are facing similar challenges, your situation may be different. But you are not alone!
To help you cope more effectively, I am opening up two virtual Zoom group sessions specifically for caregivers both in Israel and in the US. I wish you all good health and strength to address this most disturbing and painful time.
Jeanne Lankin, MSW, is a licensed clinical social worker in New Jersey and in Israel. Her psychotherapy practice in Israel has moved online and welcomes new clients. She can be reached via email by clicking here.